Save money
get discounts of up to 50%*
*
For any booking 48 hours in advance
98,15%
of satisfied clients !
Intersport
No. 1 for on-line ski rentals
Intersport Flumet: ski rental and much more
The Intersport Flumet team welcomes you with a friendly smile in a light and spacious shop at the heart of the village near the slopes, ready to impart the best possible advice.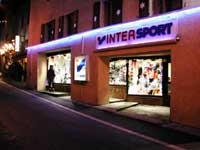 In winter, our Intersport Flumet shop offers you its expertise in skiing, snowboarding and all other snow sports:
We rent out skis from the big brands, ensuring you get the utmost in quality and safety, as well as other snow sport equipment, so you can discover new sensations - snowboards, mini skis, cross-country skis, etc.
We sell skis and snow sport equipment along with clothing and accessories.
---
On top of all that, we offer numerous services making your stay in Flumet as enjoyable as possible: we service your skis for
a better skiing experience
; we provide
boot fitting
to make sure you have the boot to fit your foot; we allow you to try before you buy for maximum satisfaction; we provide a
'theft and breakage' guarantee
for stress-free skiing; and we deliver skis to your door handle ski pass card returns to give you peace of mind.
Because we love our work, we do everything we can to meet your expectations. Come and meet us in our shop where the whole
Intersport Flumet
team is at your service 7 days a week from 9 am to 7 pm.
Speedy and practical, think of booking
your skis for Flumet online!
---