Save money
get discounts of up to 50%*
*
For any booking 48 hours in advance
98,15%
of satisfied clients !
Intersport
No. 1 for on-line ski rentals
Intersport Flumet: an avalanche of services
To enjoy a stress-free ski break in Flumet along with safe and fun skiing, don't hesitate to use the services Intersport Flumet offers.
---
Ski maintenance
Intersport Flumet provides a team of experts trained in ski maintenance and repair ensuring unrivalled skiing comfort, as we know how important it is that your ski equipment is cared for and protected from one season to the next. You can leave us your equipment at the end of a day's skiing in Flumet and pick it up again the very next morning. We wax skis using a traditional technique consisting of applying a hot paraffin wax to the base of skis for in depth care. Ski sharpening ensures that the ski edges remain sharp providing a good grip on the snow and better stability. Ski repair gives your skis a new lease of life by filling in scratches and gouges.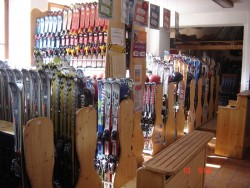 ---
Boot Fitting
You do not have to put up with sore feet in your boots anymore. Our Intersport Flumet bootfitting workshop adapts your boots to the shape of your foot providing you with utmost comfort.
We offer a range of boot customisation services from heat-moulded insoles to heat-moulded innerboots and shell stretching to provide you with ski boots that are perfectly adapted to your feet.
---
Try before you buy
Make the right purchase the first time round with Intersport Flumet's 'try before you buy' offer. We propose that you try equipment before buying it! You can then make the right choice and the right purchase.
E.g. Rent the latest Rossignol ski model to try it out. If the equipment is the right one for you and you decide to purchase, we offer you the rental for free.
---
'Theft and Breakage' guarantee
Ski hassle free with our guarantee! Intersport Flumet's 'theft and breakage' guarantee costs only 1€ per day and per equipment. Rest at ease! If the equipment you have rented in Flumet is lost or stolen, don't worry, you just need to provide us with the original police report.

And if you break equipment, we cover the cost as long as no unreasonable use was made of the equipment.

However, if rented equipment is lost, stolen or broken and you have not taken out a guarantee, you will be required to pay either the current retail price of the equipment or the cost of repairs.
Ski poles are not included in the guarantee and a fee of 8€ is payable if they are broken or not returned.
---
Ski pass card returns in Flumet
Save time with Intersport Flumet by returning your Espace Val d'Arly and Espace Diamant access card to us and we will reimburse you the 2€ per card. At the end of your day or stay, don't bother queuing at Flumet's ski pass offices at the bottom of the slopes, come straight to our Flumet Intersport shop and return your card at the same time as you return your rented ski equipment.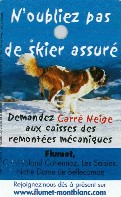 ---
Ski rental delivery service in Flumet
For group ski rental in Flumet, we provide an equipment (ski, snowboard, helmet, sledge, etc.) delivery and pick up service straight to the door of where you are staying. This means you no longer have to worry about lugging your equipment about.

Contact us directly to tell us your requirements and we can plan ahead and better satisfy your needs.
---
Our
Intersport ski rental service in Flumet
is always ready to meet your every need